2023 GMC Terrain Near Ontario, CA

2023 GMC Terrain at Mark Christopher Auto Center
The GMC Terrain's regal appearance conceals a powerful engine that provides a thrilling driving experience. Command the road in this daring crossover SUV with high capabilities and responsive handling. If you're near Los Angeles, Anaheim, or Ontario, you'll want to come to Mark Christopher Auto Center to schedule a test drive and experience what the Terrain can do for you.
Top Features of The 2023 GMC Terrain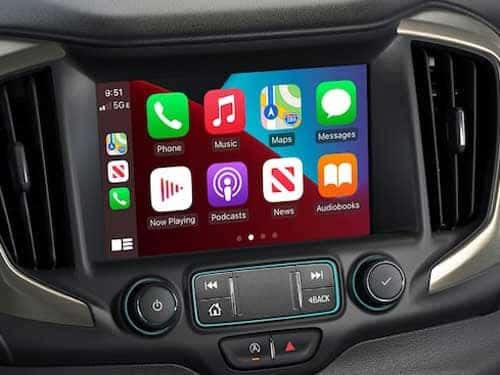 Infotainment Screen
A massive 8-inch Infotainment screen is available for the GMC Terrain. You'll be able to control a variety of settings from this control center, allowing you to make calls and listen to music on a whim. The system can even be controlled by voice for when you need both hands on the wheel.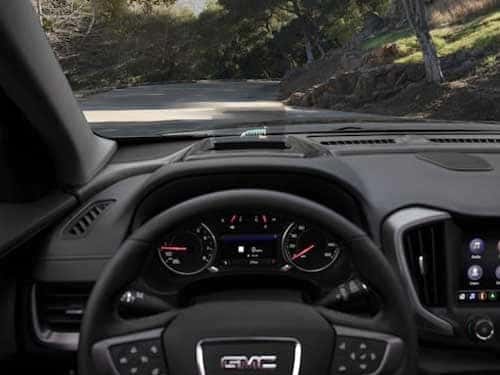 Head-Up Display
The Head-Up display uses a projector to show you important driver information directly on the windshield. Placement is low on the window and semi-transparent, so you won't find it invasive. You'll be able to see your usual dashboard information without having to look away from the road, and the display is stylish as well as functional.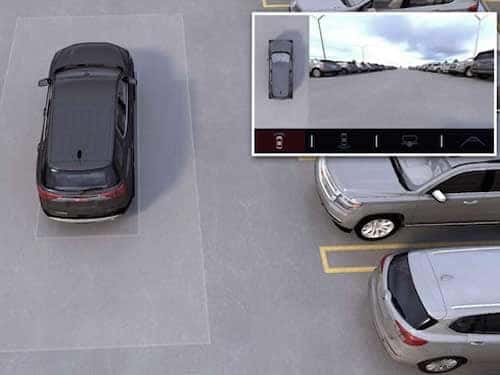 Surround Vision
Available High Definition Surround Vision allows for camera viewing of all angles around the vehicle in a crisp image. This feature allows you to see nearby objects and obstacles without leaving the driver seat and can even assist you with tasks like backing up and parking.
Dependable Ability
As you'd expect from an off-roading vehicle, this SUV offers competitive performance that gets the job done. The 1.5L Turbocharged engine comes equipped with E-Boost, so you'll have extra power whenever you really need it. 175 horsepower and 203 lb-ft. torque is supplied by the powerhouse, so the engine will accelerate just as quickly as you tell it to. Changes in speed are nearly seamless with gear shifts managed by the 9-Speed Transmission. You're sure to enjoy the roomy interior as well, which is perfect for fitting multiple bags and passengers.
Off-Roading
Just like the name implies, this compact SUV is capable of conquering a variety of terrain with ease. The vehicle comes available with both Front-Wheel Drive and All-Wheel Drive with the capability to easily swap between them with a Select System knob. You can also select the Off-Road Mode, which is an adjusted AWD variation that offers better traction control and enhanced steering when you're on unstable terrains like sand and gravel. The final setting on the knob is the Hill Descent Control, which utilizes antilock braking to make the ride down a slope more steady.
Safety You Can Trust
The GMC Terrain keeps you secure on the road as it has all of the latest safety features installed. GMC Pro Safety comes with an array of technology that assists your driving, like the Lane Departure Warning which will alert you when you're leaving your half of the road. Automatic Emergency Braking is also installed for those moments when you just can't react fast enough to a collision. Other systems are designed for increased driver awareness, like the Following Distance Indicator which alerts you when you're beginning to get too close to the vehicle ahead. A more unique tech feature is the Intellibeam Headlights, which are able to detect when a driver is ahead so that high beams will dim. This allows you to leave them on continuously during long drives without having to manually turn them off to be courteous.
If you're ready to finance your own 2023 GMC Terrain, you can apply online before coming to Mark Christopher Auto Center.