Service Benefits

Choose Mark Christopher For Your Car Service & Maintenance
When you're looking for the right dealership for your model, you'll be met with a lot of possible choices. At Mark Christopher Auto Center, we aim to set ourselves apart from the rest, as our mechanics have an extensive amount of expertise, and we strive to meet your standards with every repair. Whether your model is suffering from a broken windshield wiper or something much more serious, we'll be able to help you solve the issue.
---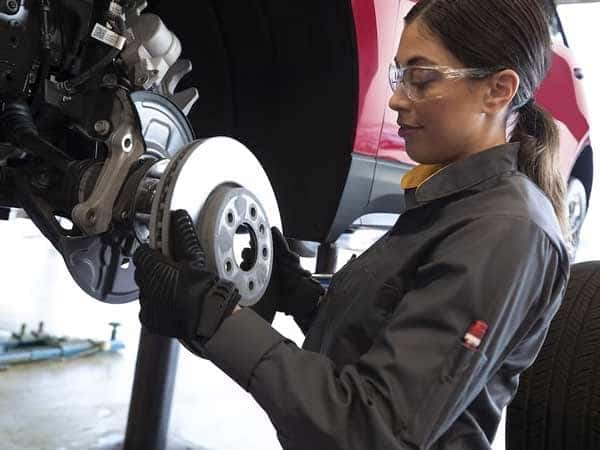 Scheduling Service With Mark Christopher Auto Center
At Mark Christopher Auto Center, we aim to provide each and every California driver with the service that they need, so you'll be able to visit us regardless of whether you're from Anaheim, Ontario, or Los Angeles.
A Trustworthy Mechanic: Each and every mechanic will have a different level of experience, so when you want to be sure that your model is receiving the best possible service, you'll want to schedule your next appointment with us.
Make Your Routine Maintenance Simple: Routine maintenance is vital if you plan on owning your model for a long time, which is why you'll be able to handle everything from your battery to your coolant here.
We Make Scheduling Easy: If you're stuck at work, you might have trouble sneaking away so that you can call and schedule. That's why we offer an online form that you can fill out at any time.
---
Learn More About Services We Offer
Our Dealership Has It All and More
It can get tiring darting from a mechanic to a parts store, to the online market. When you want to shop for everything in the same place, you'll want to visit us.
Oil Changes, Tire Rotations, and More: We don't believe in making you take multiple trips, which is why you can always ask for service when you need to pick up a part, browse for a new model, and more.
A Slew of Parts: We keep our parts center stocked so that you always have what you need when you visit. We also offer an online order form in case you want to simply pick up your order.
Browse For a New Model: When you want to explore our inventory, there's nothing stopping you. While our mechanics are working on your model, you can always take a walk around the lot.
Search for New Accessories: While you're here, you might want to pick up a few accessories for your model. You'll be able to find everything from floor liners to cargo management systems in our inventory.
The service department at Mark Christopher Auto Center wants to keep you safe on the road with regular routine maintenance. We make it easy to care for your vehicle so that it continues to provide reliable transportation for as long as you own it. We offer extended hours to work around your busy schedule and ensure you miss as little work as possible. We're open on Saturday if that day is more convenient for you.
You can schedule service around your day or week when you use our online service scheduler. Visit our website to make an appointment online. All you have to do is set up an account with your name, email address, phone number, or VIN and pick your date and time. We'll call to confirm and you can log in quickly the next time you need to schedule.
If you prefer, you can give us a call or even stop by for some same-day services, like an oil change or tire tread check. When you bring in your vehicle for service, you can relax in our comfortable waiting area while we do the work requested. We offer complimentary Wi-Fi in case you want to get some work done or play around on the internet. For longer tasks, you can use our shuttle to get you to work or back home until the job is finished.
Visit Our Collision and Body Shop
You'll find that collision and body shops are rare, even among dealerships. Depending on the damage to your model, it can take a lot of expertise to restore it to its original form. Luckily, our mechanics and technicians are well-trained, knowledgeable, and friendly, so you'll be able to count on their work.
OEM Repairs: When your model is being repaired, you'll be glad to know that we offer GM original equipment. This is a significant upgrade over the alternative, as these are the parts that your model was made to have. It can make the painting process easier, and they'll be designed to meet our safety standards. As a bonus, you'll find that you might even be able to retain more of your resale value once your repair is complete.
Trust Our Service Team
When it's time for maintenance or repairs, you can trust the service team at Mark Christopher Auto Center. Our technicians are trained on the latest systems and technology, including hybrid and electric tech. We use the latest equipment to diagnose issues and to repair them.
We also use genuine OEM parts to help your vehicle last longer and perform its best. You'll receive an estimate for any repairs before we start work. We'll let you know how long it will take if you need to special order any parts, and how much time it will be for the repair to get completed.
Don't forget to check out our service specials if you plan to come in for service. We offer special deals and discounts to help you save money. Check back often because our specials may change and you don't want to miss out.
If you need to have your vehicle maintained or repaired, trust the service department at Mark Christopher Auto Center to get the job done right and accurately the first time. Let us help you be safe out on the road as you drive around Los Angeles, Ontario, Riverside, and Anaheim. Visit us today or schedule service online for your vehicle.
When you want to make sure that your model is properly maintained, you'll want to schedule your next service with Mark Christopher Auto Center.